Story
The paddies of Natural ponds with luxuriously swimming Nishikigoi
Beautiful and peaceful time flows through the village.
Nishikigoi was born here in Ojiya.
A harsh but rich nature brings many blessings.
People have been pursuing the skills for beauty and gastronomy.
Indigenous art has been cultivated here in transit of time.
People have worshipped this land as a sacred place for Nishikigoi
and will continue to do so in the future.

We will preserve this precious culture
as well as the industry of Ojiya city for good.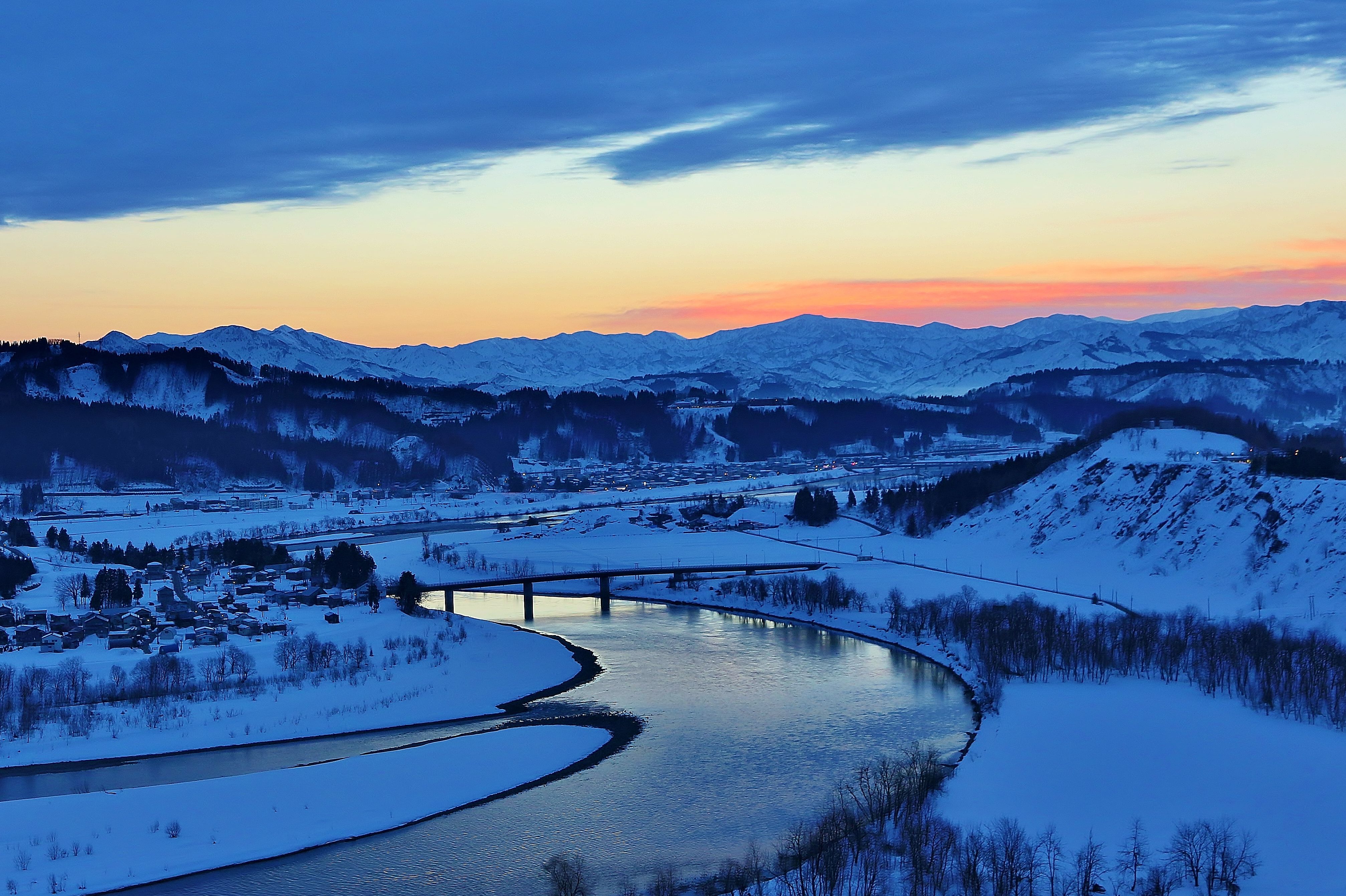 It is said that Nishikigoi originated in the Edo period when farmers began raising mutants of light-colored true carp,
but these mutations occurred all over the world in every era.
How was it possible to sublimate these colored Koi to Nishikigoi in Ojiya? There were three inevitabilities.

The entire village is closed for the winter in this land where the snow (nature) sometimes exceeds 5 meters.
The participants boasted to each other about the colored koi they had raised themselves in the fall after lifting them out of the pond, and looked forward to the winter.
The time-consuming, trial-and-error process of cultivation and careful breeding (technology) must have suited the tenacious temperament of the snow country.
In addition, as a landing place of the Shinano River (nature) water transportation and a production site of Ojiya Shrinkage, the area had a lot of exchanges with Kyoto and Edo (Tokyo),
which also contributed to a culture (aesthetics) that respected beauty. This contributed to the culture (aesthetics) of respecting beauty, and raised mutant colored Koi to Nishikigoi.

Yes, the miracle of Ojiya's interweaving of nature, technology, and aesthetics gave birth to Nishikigoi.
Similarly, Ojiya's industry was born out of this background.
Nature
Sake is produced from air purified by snow and subsoil water.
Soba noodles and processed seafood products using selected seafood from the Shinano River.
Technology
Rice crackers and food products made with rice grown with care and processing techniques accumulated over many years.
Information technology that brings tradition into the modern age.
Aesthetics
Fireworks that bloom and instantly vanish.
A textile in which each thread is inflected and beauty is built up.
You can also purchase directly from the following businesses that offer these products and services.
We also accept POP UPs and exhibitions for retailers such as department stores and specialty stores.